Very Long History about the team and world: It all started in 1984, there were 3 superpowers called Oceania, Eurasia, and Eastasia.
Spoiler:
(see map above in spoiler to see the territories and how it arranged)
There was a conflict going against Oceania, Big Brother was fighting against Eurasia and Eastasia. And when it looked like Oceania was winning, there came some people from another planet helping out Eurasia and Eastaisa, and defeating Oceania for good.
2400 CE
After 416 years after the last war (and the world became normal), there was a new threat, the Satan Mansion (it got renamed during 1984 time period) started to launch an attack on Japan and Taiwan. But then North Korea bud in and Nuked the mansion, killing the 2 vampires and a book reader. The rest (Meiling, Time Stopper, and Koakuma) escaped because they were already tired of being with the high threats.
5500 CE
Japan and Taiwan start to expand their land and declare war. Taiwan took over the islands in Southwest Asia, while Japan start to take over all of the Russia and Middle Asia. PR China, worried they might feel weakened, start to take over Malaysia, Thailand, Laos, Vietnam, Cambodia, Myanmar, Singapore, and New Zealand. India didn't want China taking over their land so they defended it from them. The European Union, started to take the remaining countries that were not in the EU, with them for a better defense and to help. Then New major superpowers emerged in Africa, and Saudi Arabia started to expand their land and claiming it, thus making it a powerful country. South America also got caught in this mess, and Barzil started to take the countries around it theirs, while Chile took 2 countries, and Brazil-Chile were full of defense. Then Japan started to take over Alaska and Canada, while PR China took over Central America (Mexico and it's like of countries) and then, North Korea launched their most powerful Nuke, ultimately destroying the USA and sunk it. PR China, now pissed off at it's old ally, started to hate it (the PR China wanted to destroy the evil country too, but after that wanted to claim it and keep to have more territory and land). Now China no longer supports North Korea. Kim Jong Il tried to apologize to Mao and Hu Jintao, but they declined.
30,000 CE
Present day, Japan and Taiwan got new leaders back in 25,000 AD as well. Now the 2 empires are the most powerful. China and North Korea still poses a major threat, as well as Saudi Arabia. Empire of the Rising Sun, Empire of the Sea, and the European Union send their most powerful people to form a team called Speed Zone Extreme 2097 X5.
Spoiler:
Take a look at the map in the spoiler. List as follows (and leaders):
Purple: Empire of the Rising Sun Japan | Leader: Taiga
Light Blue: Empire of the Sea (sometimes called Taiwanese Empire) | Leader: Youmu E3 (she also is now 1/3 robot after the chemical drinkage)
Red: Chinese Empire | Leader: Sakuya and Hu Jintao
Yellow: North Korea | Leader: Kim Jong Il
Orange-ish: Saudi Arabia | Leader: Osama Bin Laden and Mahmoud Ahmadinejad
Medium Green: India | Leader: Youki Konpaku
Blue: European Union | Leader: Yuyuko
Light Green: Brazil | Leader: Rikako Asakura
Brown: Chile | Leader: Keine Kamishirasawa
Dark Red: People's Republic of McDonald | Leader: Ronald McDonald
Darkish Green: Republic of Apple Inc. Empire | Leader: Marshmellow Puff Man
The Flag of the Empire of the Rising Sun:
Spoiler:
The Anthem:
Flag of Empire of the Sea: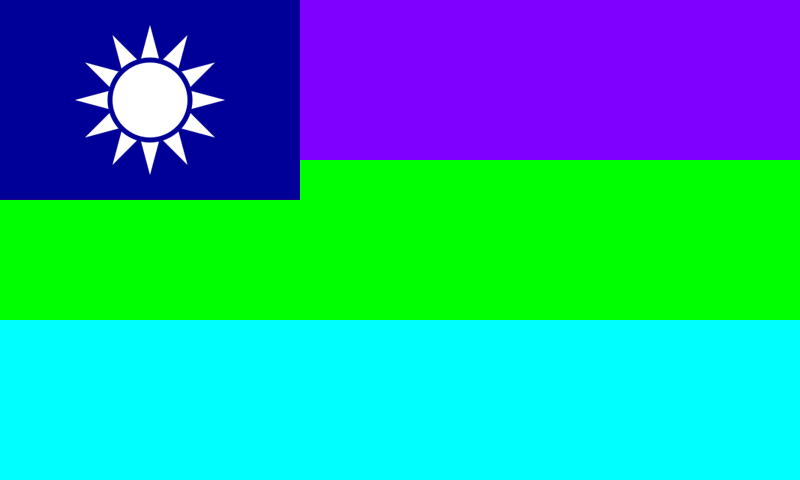 Anthem for Taiwanese Empire is: Eurythmics - Sweet Dreams (Are Made Of This)
Members of the Speed Zone Extreme 2097 X5:
From Empire of Rising Sun:
Chaos Cirno (Commander and Leader)(also is a clone of Cirno)
Komachi (SSB Version)
Reimu Scarlet
Burger King
Tenshi
Satsujinki (Korea) =AC=
Shang Tsung
YOKOHAMA (yes its tires, but evil)
Saki Tsuzura
Kendou Nakanishi
Kilyousuke
Kira
Oni Miko (when Reimu gets pissed off to far, more pissed off then the AVGN that's for sure...)
Uino
Setsuna Sakurazaki
Remilia (the normal 1)(got revived in 29,997 CE, promises to be on the good side)
AKATSUKI
Rare Reimu (A top secret experiment created to protect the main goverment of all the Empire)
Silvy
From the Empire of the Sea (Taiwanese Empire):
Youmu E3 (the 1/3 robot included)
Shaq
Advent Cirno
Metal Patchouli
Memiu (Clone of Reimu, but more powerful)
Suwako
Sanae Kotiya
Jackie Chan
Mega Mari
L Block
Dirty Kung Fu Man (he's got changed up in an lab by Garionfeld)
Mystia
Koopa Troopa
Kaigen
Hisui
Kohaku
Super Mech Hisui (a Robot, and powerful too)
Yakuza Remilia
Segalow
Hiziri Byakuren
Yorihime Watatsuki
LuckySe7en
Misuzu
Mizuka Nagamori
From the European Union:
Yuyuko
Lamborghini Diablo
Shanghai (not the city, the doll)
Warakia
Sikieiki Yamaxanadu
Robocop
Masako
Cursor
Crimson Jack JoKer
Franko
Miku
Max Reco
Nostalgia Critic
Wriggle Nightbug
Hina Kagiyama
Ran Yakumo
BSreimu (a future, adult looking version. well it looks like it........)
Orin
M-Reimu (anotehr experiment created to protect the EU, though, its really uncontrollable. Luckily, it doesnt attack the EU nor its allies)
Tank-Reimu (a tank controlled by a Reimu head)
STGMarisa (a mini-remote controlled Marisa)
Escaped from PR China
Meiling
Omega Tiger Woods
Koakuma
Kinyo Roadshow (its actually a person with a top hat and a moustashe, pic of the char:
The Allies: European Union, Empire of Rising Sun, Empire of Sea, India, Brazil
Enemies and the Major Threats: Chinese Empire, North Korea, Saudi Arabia, People's Republic of McDonald, Republic of Apple Inc. Empire, Chile